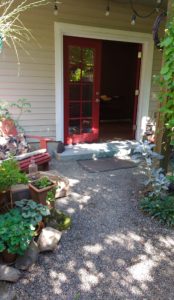 The goal of the NOW Open Studio Residency program is to provide a private oasis that fosters creative health and enables inspiration to flourish. After acceptance into the program individuals stay as guests in the NOW Open Studio private garden room relieving them of costly accommodation expenses. This two-week intensive stay in the vintage Sellwood borough of Portland will enable artists to disconnect while reconnecting to their inner muse. Between the Zen of NOW and Portland's vibrant urban core, artists are able to find their creative balance. NOW's change of pace and space will inspire artists to be present …in the NOW.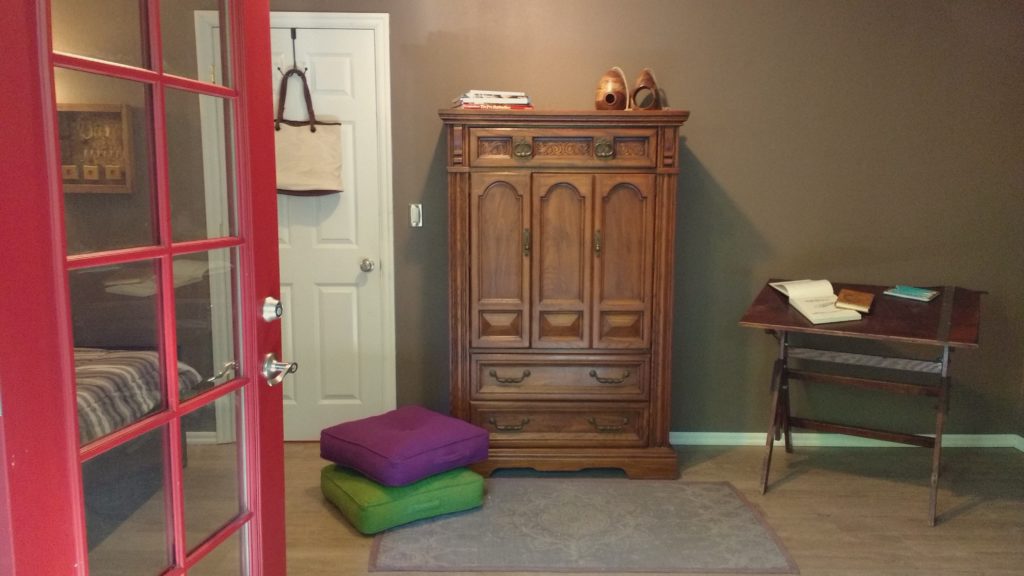 Artists are invited to submit complete applications for the NOW ARTIST RESIDENCY program. Applications will be reviewed on a competitive basis. One or two artists will be selected as the recipient(s) for 2018 year. Residency consists of the following: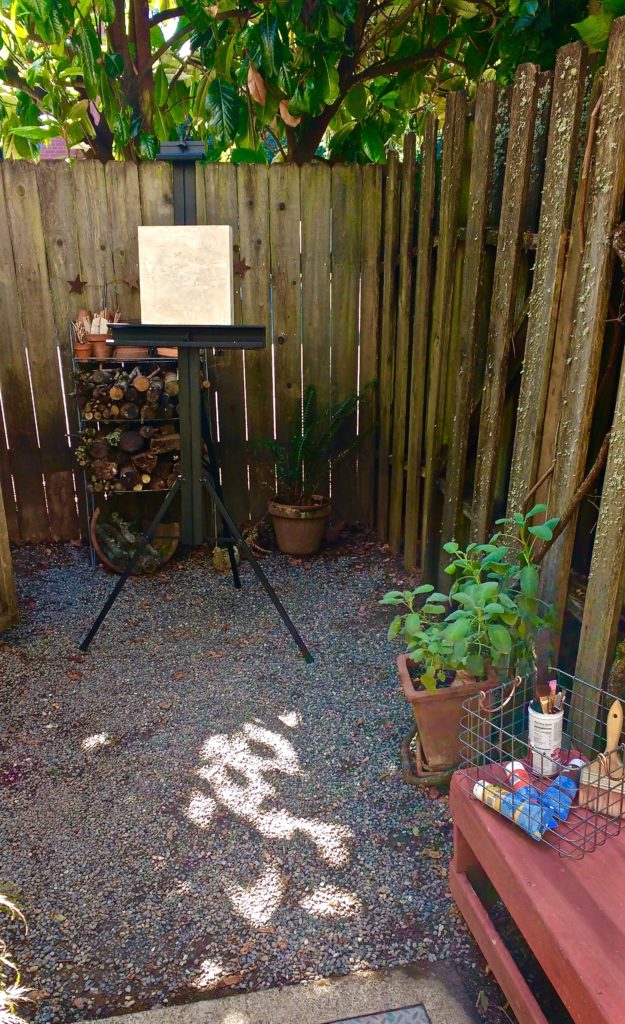 Individuals stay as guests (no lodging cost) in the NOW Open Studio private garden room for a two week residency.
Artist receives a self guided two week session in Creative Stimulation to redirect their creative thought patterns
Individuals are given peace and privacy to work on their creative health.
NOW Artist Residency is open for application by serious emerging or established artist, including recent BFA/MFA graduates. International (non-U.S. resident) artists will be responsible for securing their own travel authorization, Visa documents, etc. NOW cannot secure authorization, but will provide basic documentation explaining the nature of the residency. The ideal candidate for the residency program may be working in any media or genera.
The resident artist(s) will be selected by a committee comprised of the NOW Team, and regional academic/professional advisors from the art community.
Primary criteria for selection will include:
Quality, consistency, and vision of work submitted.
Motivation and potential for achievement of goals during program.
The degree to which the individual will benefit from the program.
Goals for the NOW Artist Residency include:
Provide an ideal space for creative inspiration.
Greatly increase the likelihood of future success for the artist.
Offer the opportunity to develop networking opportunites for the artist.
Create a supportive environment
Place the artist in a vital arts community in Portland, OR with a location ideal for meeting and learning from other artists and arts organizations in the city.
Basic conditions for the program:*
The Artist in Residence must remain in good standing, fully using the space and resources provided, for the full duration. Accepting the award constitutes a commitment to the full two week program. NOW believes a two week immersion in the process of NOW plus the culture and energy of Portland, OR is required in order for the program to make its intended positive impact.
NOW open studio reserves the right to document the space and works made during the residency, and to use images in program and organizational promotional material, including websites and publications.
At the conclusion of the residency, the artist must return the space to the same condition in which it was awarded to them (or better).
The NOW RESIDENCY program currently involves no cash award or payment to the artist.
NOW open studio will not conduct the sale of the artist's work unless it is included in a NOW Exhibition project. The artist may sell their own work (and only their work), from the residency space on their own terms.
* Submission of application indicates agreement to the terms spelled out in this prospectus. A more detailed formal agreement, further clarifying the terms, will be provided upon establishment of the award recipient.
Questions can be submitted to NOW open studio through our contact page.
In General: NOW open studio will accept applications for the NOW ARTIST RESIDENCY on an ongoing basis.
Eligibility: Any adult visual artist can submit an application. Artists should bear in mind the criteria listed above when submitting.
Media/Genre: Open to artists working in any traditional and non-traditional genre and media.
Submission Fee: Each application must be accompanied by a $28 non-refundable submission fee. Fee must be paid by credit card via PayPal or PayPay through the NOW Store located on our site.
How many works should I submit?:
For applications we request 15 images of sample work be sent for consideration.
Images and Info: In an effort to conserve resources NOW open studio accepts only digital images and documents for consideration. See specifications below. NOW will retain the submitted images of the successful applicants and reserves the right to use the images in publications and program publicity. Mailed proposal materials will not be returned.
Digital Format: Digital images in JPEG format only and documents in PDF format only should be submitted. All works may be submitted on CD/DVD or by dropbox.com. or Submittable below;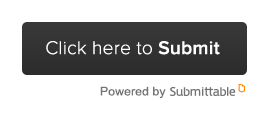 The online submission process is HIGHLY PREFERRED because it makes our process more efficient and saves postage and materials for the artists.
To send via USPS or dropbox.com: Artist should include; Artist Statement, Vitae, Inventory list, and 15 images. The images must meet the following specifications:
File names (for images AND other documents) = artist's last name (underscore) first name, followed by the image number as noted on the application form (i.e.Jones_Mike_1.jpg).
Detail, installation, or alternate view images must include the word 'detail' in the filename (i.e.Jones_Mike_1detail_1.jpg).
The image files should be in HIGH QUALITY JPEG format, images should be no smaller than 1000 pixels in width and 72dpi.
Images must be oriented properly (i.e. top of image is top of artwork) and should not include text info or borders that are not part of the actual work.
INSTRUCTIONS FOR SUBMITTING VIDEO, MOTION, and INTERACTIVE, ENTRIES or DETAILS
NOW open studio requests that all video or interactive submissions, or video details illustrating an entry, be in the form of a viewable online copy of each work. The work should be shown online in its full length.
Note that a jpeg still image should still be submitted to represent the work in addition to the video material, and this file name should include the term 'video'.
Video may be in the form of DVD or Dropbox.com  Effort should be made to eliminate confusion or extraneous information that may interfere with the jury's viewing of the work. Any extraneous information, or material not considered to be 'the work' will inevitably detract from the jury score for that work.
Links to entries must remain valid and active through the notification of jury results.
Entry Checklist: (for your reference)
Fee paid by credit card via PayPal / PayPal (if account name is different then Artist please list account name used for payment in a separate PDF document labeled -Payment info.)
Digital images formatted as directed
Artist's Statement, Vitae, Image list, 3 references; all in PDF format
Apply by:   (we prefer submittable)
Mailed USPS (see prospectus)
Dropbox.com (see prospectus) 
Submittable.com  https://nowopenstudio.submittable.com/submit
PLEASE feel free to print, share, or forward this information.
Contact with questions through Contact page.
NO SMOKING OF ANY KIND. NO PETS.
(artist responsible for all transportation expenses and meals)
Prospectus; NOWartresidency2018