The Mini Salon  – 21/22                                                                                    International Small Works Traveling Exhibition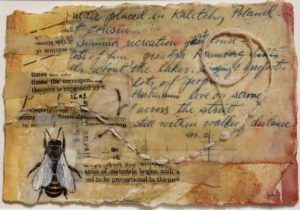 A  two year tour will take the The Mini Salon across the U.S. and over seas to Kenya, Africa.
 What you'll need to do:
Create Work
Mail Work to Us
Upload – Digital Images of Work
Upload – Artist Statement, CV, List of Work
Pay Fee
DUE DATES
Mailed art works post marked – SEP 18
Upload of digital images and documents – SEP 18
(We suggest artists outside the US mail work EARLY – Please check to see if your country is having a mail back log due to COVID. You are still welcome to apply)
EXHIBITION DATES
OCT 2021 Cincinnati, OH, US – HOF, The Patina Gallery – 
(Opening Oct, 21)
Spring 2022 Portland, OR, U.S.  – The Olympic Building
Summer 2022 Kenya, Africa – HOF Gallery
(Due to the current conditions happening world wide and the future in a continual flux dates are subject to change)
ELIGIBILITY
Open to all practicing visual artists. An international call.
MEDIA
Open to any and all traditional and non-traditional visual arts media, genre, subject, and content. Media may include: drawing, painting, sculptural, collage, photography, printmaking, etc. 2D.
(No commercially printed work or postcards! One of a kind art works, photos, hand pulled prints ONLY)
SIZE                                                                                                                                            Size: 4.5" x 6.5" (11.43 cm x 16.51 cm).  NO thicker then 1/4 inch. ( .64 cm)  Works that do not follow size requirement will not be included in exhibition or catalog. Wood, strong paper, mounted paper, canvas, board, found material etc. 2D. – NO MATS OR FRAMES.     On the reverse side of art work write: your name, signature, title of work (if applicable), medium, website /email address, & price. 
MAIL ART WORK
Send works in a protective envelope/packet 
(include a stamped/prepaid postage and addressed envelope for return of work, work will not be returned otherwise)  NOTE: Art work from outside the U.S. will not be returnable but we will make every effort to sale the work. These works will remain in our colletion for sale and possible future exhibitions. 
UPLOAD DIGITAL IMAGE FOR EACH MAILED ART WORK
Why do we want a digital copy of your mailed art work?
We will be producing a catalog of the show for purchase.
Digital images in JPEG format only.
The images must meet the following specifications:
File names (for images AND other documents) = artist's last name (underscore) first name, followed by the image number as noted on the inventory list. (Jones_Tom_1.jpg).
The image files should be in HIGH QUALITY JPEG format, images should be no smaller than 1000 pixels in width and 72dpi.  This should result in an image file ranging from 740kb to 2mb in file size. Please submit no larger then 2mb.
Images must be oriented properly (top of image is top of artwork) and should not include text info or borders that are not part of the actual work.
ARTISTS will need to include a PDF of:
Artist Statement, Vitae, Inventory list of work.
FEE
$1.00 (US) for each work or $4.00 for 5 works.
(fee is to support cost of travel for exhibition)
SALE OF ARTWORK
Artworks are not required to be for sale in order to be included in publication or exhibitions. It is required that works indicate price or not for sale (NFS) on Inventory list of work. NOW will retain a commission of 20% of the sale price on all artwork sold during the exhibitions. Sale price and status cannot be changed after submitted. Artist will need a PayPal or Venmo account to receive payment for sales of art work.
NOW & HOF will retain the submitted images of the successful applicants and reserves the right to use the images in publications and program publicity. Our hope is for 90% of submitted work to travel to all venues and appear in publication. Artists are responsible for insurance for pieces in the event of damage or loss during tour.