Our New Misssion
NOW has refocused it's vision, turning from classroom model to Residency program.
The goal of NOW ARTIST RESIDENCY program is to provide a private oasis that fosters creative health and enables inspiration to flourish. After acceptance into the program individuals stay as guests in the NOW Open Studio private garden room relieving them of costly accommodation expenses. This two-week intensive stay in the vintage Sellwood borough of Portland, OR (USA) will enable artists to disconnect while reconnecting to their inner muse. Between the Zen of NOW and Portland's vibrant urban core, artists are able to find their creative balance. NOW's change of pace and space will inspire artists to be present …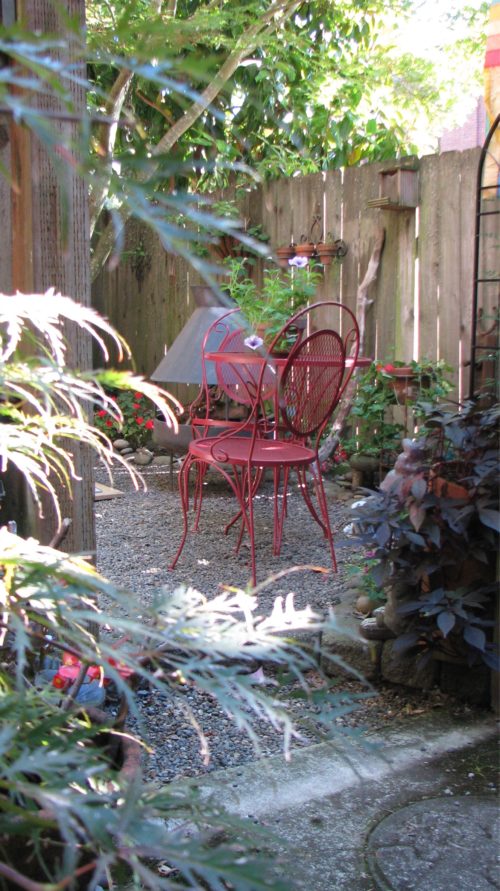 in the NOW
OUR STORY
NOW was started in 2010 first in CA before moving to Portland, OR. in 2011. When NOW opened it's doors the primary focus was Creative Coaching. The courses were designed to stimulate creative process, open the mind, think differently, and push creativity.
One of the most common problems artist, musicians, writers and all creatives suffer from is mental block / writers block. A stall or complete shut down of the creative process. Less destructive but just as common to be stuck in a rut of repetitive behavior.
After having a successful career in Advertising / Marketing for over a decade, Founder Gina Hartmann left the field to return to fine art.  "I wanted to make use of the skills acquired and time spent in the commercial field. The courses I developed to redirect and stimulate creative thought are based on rapid thought and idea generation techniques used in the Ad world. Where time does not stand still for creative blocks and where deadlines must be met."- Hartamnn
In 2014 NOW refocused it's vision. NOW needed to become a vehicle to allow artist to become truly enveloped in creative stimulation. Hence our decision to reinvent ourselves. NOW is putting a twist on the idea of the artist residency. Unlike other residencies our goal is to work on the health of creativity not work on technique or skill building. The biggest problem with the standard retreat / residency model is cost. Artists register and if excepted generally can not afford the expense of staying, which can cost $1200. a week and upwards. Most artists maybe able to cover their cost to get there, but the stay is out of reach. Keeping many talented creatives from applying.
NOW is different, if excepted into the program the artist receives a two week coaching session and will be welcomed as our guest to stay at the Garden Room. The Garden Room is private with a full bath. French doors open up into a lush garden were an outdoor painting /drawing area will is available. With only the responsibility of transportation to get here, the artist will be allowed the ability to take advantage of Portland's incredible art, outdoor, food, and music scene. Plus allow for greater concentration on the program of creative stimulation.
NOW is located in Sellwood a beautiful old grid system neighborhood four miles from downtown Portland. Steps away from public trains, buses and bike paths. Artists are able to explore Portland, a vibrant creative city.
Artist registration fee is $28.00 much lower then most registration fees. Judging will be based on technique, skill, craft, and vision first. The artist CV/resume will be taken into account second. The NOW team and invited judges from the vast Portland creative community will vote on who is excepted into the program. The creative stimulation sessions offered will start with visual arts first then later add sessions for writers, musicians and other creative fields. The NOW team provides a much needed survice for creatives and the creative minded. Art is vastly important to the world. It is the common thread allowing us to all share in the human experience and connect on a higher level.
Our Past:
NOW Open Studio is a creative meeting place offering open studio sessions that anyone can attend no matter what their skill level, from the creative curious to the artistically advanced. Our sessions encourage lively conversation and inspiration to flow while being guided by a Creative Coach in hourly sessions designed to push you, engage you, or just entertain you. These courses are for exploring and fully appreciating the space, time, and people around you;  "being present" in essence in the NOW.